IGF 2016 Registration Opens:
Online registration to participate in the 11th Annual IGF is now open. All stakeholders and interested individuals are invited to participate and to register as early as possible until 17 November 2016 23:59 UTC – 11. See the invitation from UN Under-Secretary-General for Economic and Social Affairs, Mr. Wu Hongbo. Logistical details on travel to Guadalajara are available on the host country website, igf2016.mx
Deadline for online registration: 17 November 2016 23:59 UTC – 11
Dates: 6 – 9 December 2016
Location: Guadalajara, Mexico
———————————
IGF 2016 at Mexico – 6-9 December 2016:

The 2016 Internet Governance Forum (IGF):
'Enabling Inclusive and Sustainable Growth', is scheduled to take place from 6-9 December 2016 in Guadalajara, Mexico. 
The Internet Governance Forum (IGF) is a platform with an aim to enhance participation from stakeholders from developing countries, youth and those joining the IGF online to discuss policy dialogue on prevailing and emerging issues on Internet Governance EcoSystem.
Last year along with the WSIS +10 Review process, progress on the IGF was reviewed. Finally, The IGF mandate was extended for ten years by the United Nations General Assembly on 16 December 2015. IGF aims at fostering the sustainability, robustness, security, stability and the development of the Internet, thus facilitating content development and access to information and knowledge.
IGF Pakistan has also been participating actively in dialogues on the IGF and WSIS +10 Review process as well as the advocacy for the renewal of IGF mandate. During the High Level Meeting Sessions of the United Nations General Assembly on 16 December 2015, IGF Pakistan delivered a Awareness Session on "WSIS +10 Review and Beyond" at Secretariat Training Institute Pakistan (STI), Islamabad where 80+ Government high level officials were registered.
———————————
Asia Pacific Regional IGF 2016 at Taipei:
Asia Pacific Regional Internet Governance Forum (APrIGF) 2016 will be held from July 27  – 29, 2016 at NTUH International Convention Center, Taipei, Taiwan. Youth IGF, will be held in parallel.
Overarching Theme:
This year Theme of this year APrIGF is as follows:
A New Internet Era – Merging Physical Space with Cyberspace
Sub-Themes:
1. The Future Impact of IANA Transition
2. Security
3. Human Rights
4. Impacts of International Agreements and Policies
5. Universality
6. Cyber Connectivity
Asia Pacific Regional Internet Governance Forum (APrIGF) 2016 will be held from July 27  – 29, 2016 at NTUH International Convention Center, Taipei, Taiwan. Youth IGF, will be held in parallel.
———————————
New gTLDs Program Launched:
Internet is opening new Business Dimensions with innovative approach of new gTLDs program. This is an exclusive opportunity for everyone inclusively to participate anywhere from the world. This program has many innovative and advanced features and protects the global Intellectual Property rights. Some of the features are being listed below:
•Inclusive Participation.
•Option for International Brand Names e.g. .apple, .ibm, .pel, .pepsi, .google, .shop and .green
•Special Support Consideration for Developing Economies.
•Opportunity to get one or many names in Local Languages for same new gTLD.
•Assurance of IPv6 Support and DNSSEC Security.
ICANN has open the Next Phase of the generic name Top Level Domain Names (called new gTLDs) since 12th Jan 2012.
During first week 25 Applicants were registered, each applicant can apply for maximum 50 gTLD name scripts.
New gTLD Application Guide Book (19 Sept 2011):
Please find here under the latest/current English version of new gTLD Application Guidebook, released by M/s ICANN.
Registration
Application Submission – for users who have completed registration and received their new credentials.
TAS Updates
TAS Resources
Important dates:
12 January 2012: Application window opens
29 March 2012: Last day to register for access to the TLD Application System
12 April 2012: Application window closes
New gTLD TLD Application System (TAS):
The TLD Application System (TAS) is the official application submission and management system for the New gTLD Program. Interested applicants will be able to register for access to TAS when the application window opens on 12 January 2012. Applicants must have to register in TAS no later than 29 March 2012.
If you have any questions about TAS, please look for information on the gTLD Customer Service Center site (http://newgtlds.icann.org/applicants/customer-service) or send an email to newgtld(at)icann.org.
TAS Interactive Demonstration
Navigate through the critical components of TAS without actually entering data. Simply follow the links to view the TAS interface with descriptions of each screen and helpful hints.
View demo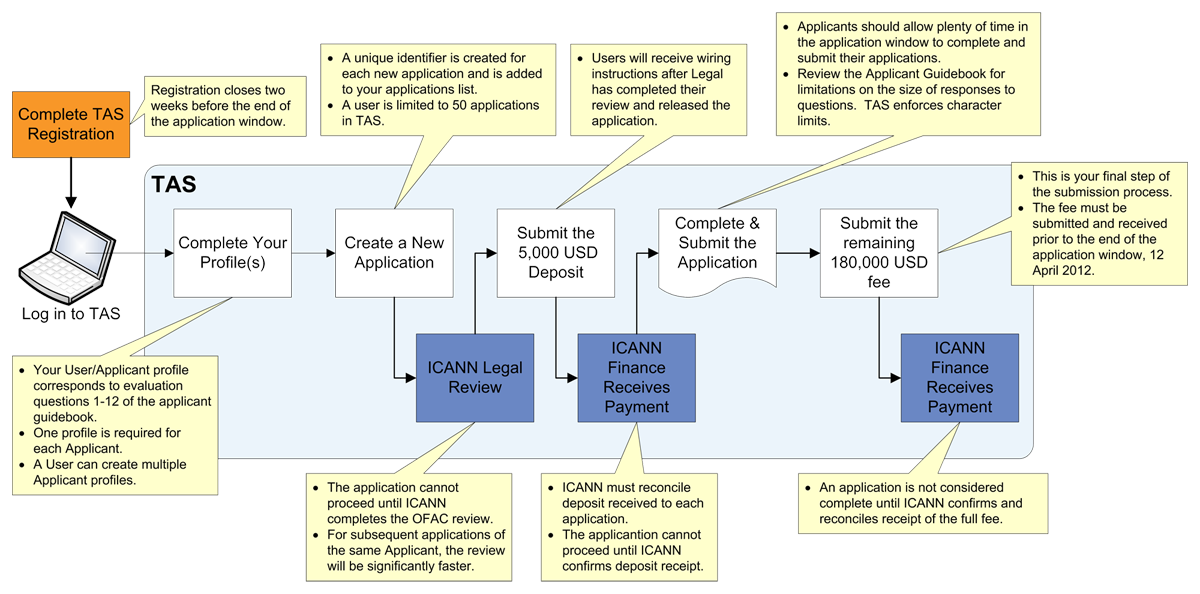 IGFPAK/UISoc Contribution:
With reference to the Public Comments about the "Financial Support for Developing Economies to participate in the new gTLD program" as a part of Policy Development Process, Urdu Internet Society and Internet Governance forum of Pakistan we have submitted Comments in Public Interest (for policy development in favor of encouraging Developing Economies to enter in the new gTLD Program) "http://www.icann.org/en/public-comment/report-comments-jaswg-second-milestone-report-18oct11-en.pdf". Please be referred to UISOC comments listed over here.
Recent Comments regarding the Application Support Handbook and about the Refund Eligibility:
http://forum.icann.org/lists/new-gtld-applicant-support-handbook/msg00015.html
Apply for Financial Assistance:
The Internet is a global resource, and the diversity, competition and innovation made possible by the new gTLD Program should provide an inclusive opportunity for all to participate. This part of the Applicant Support Program will allow a limited number of qualifying applicants the opportunity to pay a reduced evaluation fee of US $47,000 instead of the full evaluation fee of US $185,000.
In order to qualify for the fee reduction, applicants must demonstrate financial need, provide a public interest benefit, and possess the necessary management and financial capabilities.
If you are seeking fee reduction and have questions about the financial assistance available, please contact newgTLD(at)icann.org.